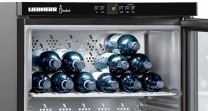 The wine maturing cabinets VINOTHEK are the best choice for the preservation of long-term wines. They allow to maintain the temperature selected in a regular and constant way. They can be individually adjusted from 5°C to +20°C.
The digital display of the temperature is visible from the outside for the glass door wine cabinets. The hygrometry can be increased by the activating the ventilation.
The isolating glass door guarantees not only an effective protection of bottles against UV rays, but also an excellent visibility.
The natural wood shelves are perfectly adapted to the preservation of your bottles. By placing bottles top-to-tail on the adjustable shelves in height, it is possible to use all the internal space of the wine cabinet.