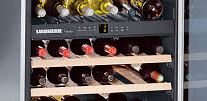 The wine serving cabinets VINIDOR propose two or three zones for the preservation of the wine. The temperature can be individually adjusted between +5°C and +20°C, in every zone.
You can prepare red wine, white wine and champagne at tasting temperatures. These wine cabinets also provide a temperature control ideal for a large amount of bottles. Due to the different dimensions of the compartiements these cabinets suit every variety of wine. 
Every compartment is endowed with a lighting LED on continuous and commutative to remain permanently switched on, which assures a homogeneous lighting inside the wine cabinet.
Pull out wooden shelves offer a good visibility and allow an easy access to your bottles. By placing bottles top-to-tail on shelves, it is possible to use all the internal space of the wine cabinet.