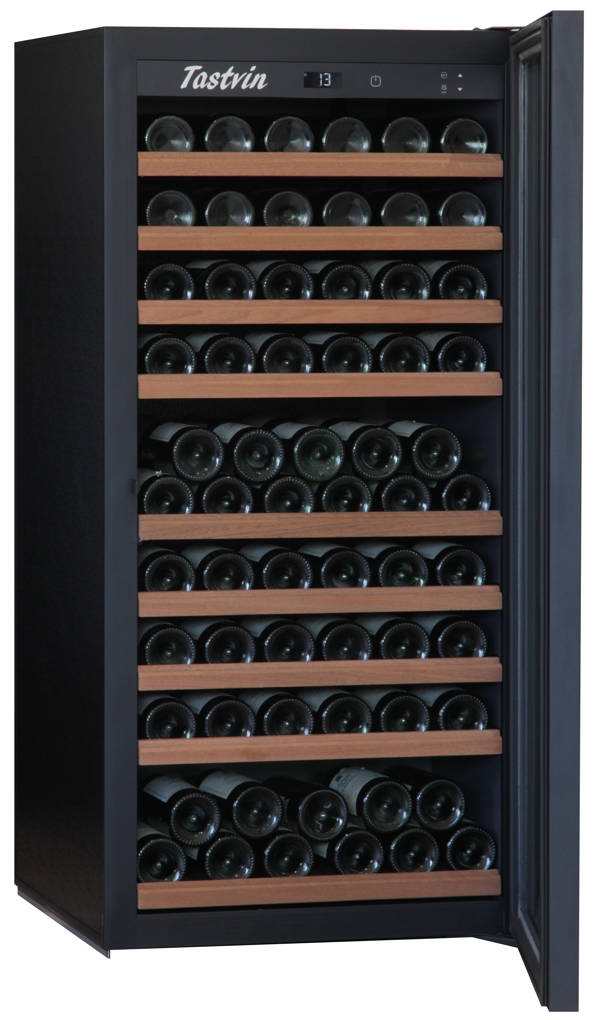 T.142.V.9 shelves / 110 bottles / Colour black, glass door

Wine maturing cabinet contains up to 143 bottles (capacity is given for information, it can change with different sizes of bottles and the number of shelves).
Wine maturing cabinet with one temperature regulated by microprocessor and permanent display of temperature.
The wooden shelf absorbs possible surrounding vibrations. Sliding on pull out rollers for individual storage or fixed for piling up. Carved bottle bed cut in wood (bottles always stable). Wooden front profile with label holder.
This wine cabinet has basic 4 shelves (3 sliding shelves for bottles of Bordeaux or Bourgogne and a half shelf, on the bottom, for bottles of champagne).
– Capacity : 143 bottles
– Maximum number of shelves : 9
– Dimensions in cm : H. 125 x L. 60 x P. 68
– Power : 160 W
– Consumption : 0.60 kW / 24 hours

Range :
T.142.V.4 shelves / 143 bottles
T.142.V.6 shelves / 132 bottles
T.142.V.8 shelves / 121 bottles
T.142.V.9 shelves / 110 bottles (photo)